Find your
best
bra fit
Follow this guide to find your size, your shape and the styles that work best for you.
97 sizes now available!
bands 34-54. cups b-k, with more i, j & k than ever.
Fit Experts
How to Measure Bra Size: Bra Fit Guide
Lots of us are wearing the wrong size, which means we don't look or feel as good as we should! Follow below to make sure you've got both your band and cup sizes just right.
Follow these bra fit steps
Measure your band. Wear a lightly lined (non-push-up) bra so your breasts are as close to natural as possible. Wrap a measuring tape directly under your breasts. Make sure it's directly parallel with the bottom of the bra band.
Now measure your bust. Place the tape at the fullest part of your bust. Make sure it's parallel to your band again.
Subtract the band size from your bust size to find the right cup size. Every inch equals one cup size up. Check our chart below.
View Chart
Calculate Your Bra Size
Start with your band measurement.
Now, for your bust measurement.
More ways toFind Your Fit
How your bra should fit
Slipping straps? Popping out? Gaping cups? We've got some quick fixes. Sometimes, a little fine-tuning is all it takes.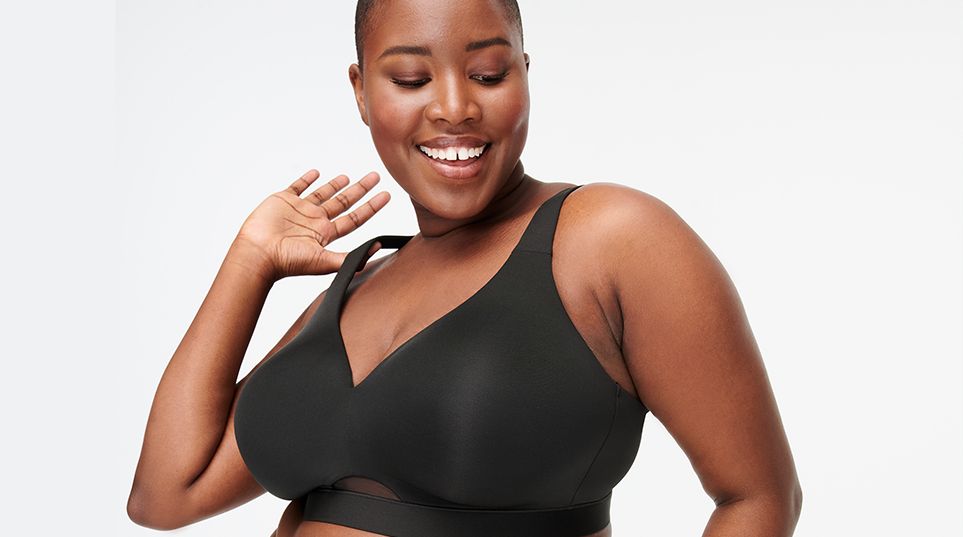 Cups:

Should lay smooth against your body.

Double boob

Consider the next size up. Or try a frame with a little more coverage.

Side boob

Give your straps a little adjustment or try the next size up.

Under boob

Check your straps. Tighten your band. Or try the next size up.

Gaping cups

Go down a cup size or try a different frame.

Straps:

Should stay put without slipping or digging.

Slipping Straps

First, tighten your straps. Then consider a cross-back style!

Digging Straps

Try loosening your straps. Or you may need a larger cup.

Band:

Should sit straight across your back.

Sits High

Check your straps. Try the next band size down. Try a bigger cup.

Rides Low

Check your straps. Adjust to a tighter hook. Then try the next size down.

Digging

First, try a looser setting. Then try a bigger band.
Our Best Bras for your Breast Shape.The Essential Seven
There are no wrong shapes, just wrong bras. Find the breast shape below that's most like yours, and we'll show you what bra styles work best.
Shallow
Bottom heavy with less volume on top. You may often have a little extra room at the top of your cup.
Average
Proportionate and generally round with not much distance between them. You can wear many styles.
Full
Equally voluminous at the top and bottom. You might tend to spill out of the sides or top of your bras.
97 sizes now available!
Bands 34-54. Cups B-K, with more I, J & K than ever!
Learn How to Measure Bra Size
It's true there's a natural tendency to keep wearing the same bra longer than you know you should, even when you know the band is getting stretched out, the cups are beginning to lose their shape, and the straps have started slipping. Because it's familiar, and because, let's face it, finding a new bra, the right bra, can be a frustrating and nerve-wracking experience. For all women. It's also true that the right bra is essential to looking and feeling great. A comfortable-fitting bra can improve your posture, reduce back pain, and give you the confidence that your outfits are fitting and looking great. We design our bras with the utmost attention to detail, using the latest technologies, while making extensive use of our fit database of 2,000 women who test every Cacique design. But beyond our huge selection of innovative, ahead-of-the-curve styles, our bra fit guide takes all the guesswork out of finding the ideal fit, helping you quickly and easily find the bra of your dreams. Although there's more to finding the perfect bra than just band size and a cup size chart, we've made the process easy and hassle-free. We show you how to measure bra size, use our bra size chart, and determine the best style for your shape. We even help you identify when you need a new bra. Additionally, you can use our True Fit bra finder to help you find the fit, size and style of a bra for you without measuring, in under a minute. Why settle for good enough when you can have perfect. Perfect lift, perfect support, and perfect, effortless comfort.
Find the Perfect Bra for You
Finding the ideal bra starts with knowing your size. Various studies have shown that the majority of women are wearing an ill-fitting bra. We'll show you how to measure for a bra that doesn't ride up, constrict or squeeze. You can use our helpful resources to find a comfortable, supportive bra with a band that sits easily around your ribcage, with cups that properly cover, and that stays in place when you move your arms. Our selection includes 91 sizes, with bands from 34 to 54, and cups from B to K – all available in a wide variety of styles. You can choose one of our full coverage bras for a smooth line under your top or opt for one of our bralettes or T-shirt bras when you don't want visible lines while wearing a thinner top or sweater. Wear a no-wire bra for full support and maximum comfort, a front-close bra for everyday leisure, or select one of our plus size strapless bras when you're dressing for a romantic special occasion that calls for no visible straps. With a low-cut dress or top, you'll likely want one of our plunge bras, featuring a deep v-neckline and a flattering cut that hugs your curves. Whichever style you choose, you'll find the versatility, and the fun colors, patterns and prints you'll love.
Feel Sexy and Comfortable
The good news is you don't have to choose between comfortable support and sex appeal. You can have both. You'll find the bras you want to help you look your best. For any activity, casual or dressy, whether you're running morning errands, having lunch with friends, enjoying cocktails with your sweetheart, or heading out for a night on the town. Got a beach vacation planned? Our swim fit guide will help you find the comfort, coverage and curve appeal to keep you feeling beautiful and confident in and around the water. Looking to update your workout attire? Our collection of activewear bras will provide all the super-supportive comfort you demand. Consider matching panties for that ultimate sexy feeling, or when coordinated underwear is a must, a cover-up robe can be an elegant complement to your sexy bra and panties. The bottom line is that we are passionately dedicated to helping you create the life and all the possibilities you deserve, feeling full of confidence that you're ready to take on anything the day brings. That's why we create bras that that will lift, shape and support while ensuring comfort. That's why we make bra shopping easy. Our bra size chart and other helpful guides allow you to get the perfect fit, so you're always feeling confident, positive and in charge of your personal style.